DIGITAL AGENCY WITH A PASSION FOR MARKETING
Creatively led.
Results driven.
Experts at what we do.
Whatever your industry, we're here to assist you in reaching your business goals. As a leading Digital Marketing Agency in Blackpool, we guarantee results across three key business areas: web design & build, social media & digital marketing, and creative content.
About us
Grow smarter. Here's what we can achieve for you:
Increase in ROAS
Average ROAS lift
Boost in page views
Average page views lift
Order value increase
Average order value boost
We're a team of
highly-skilled

web developers, content creators & marketing pros.

We offer all our clients high availability, transparent, fixed pricing and results driven performance.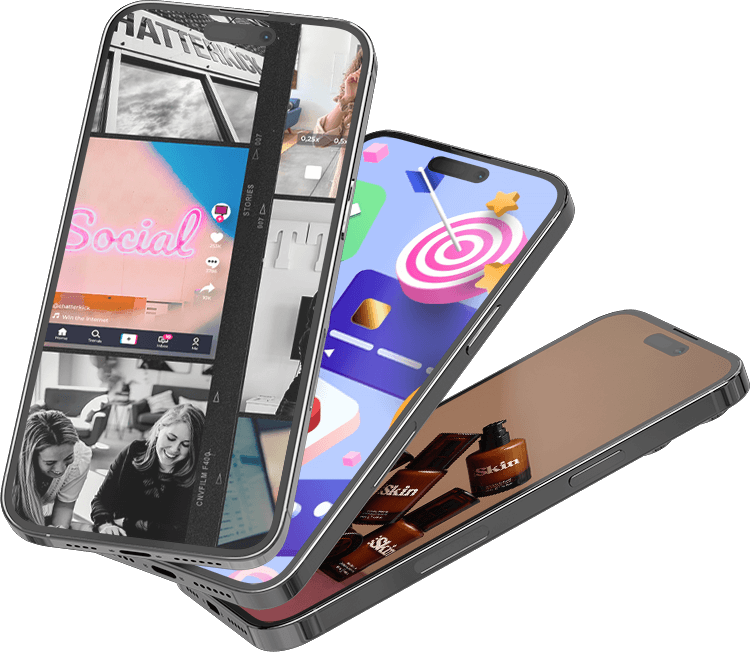 Authentic creative content
We prioritise authentic content to create impactful designs & ad copies that effectively convey your message and showcase your products.
Engage and convert with targeted email campaigns
We harness the power of email marketing to build lasting customer relationships. Our expertly crafted email campaigns deliver your message directly to your audience, driving engagement, and boosting conversions.
Skyrocket your ROI with paid advertising
Let us supercharge your online presence with paid ads that get results. Our data-driven approach ensures your ad spend is optimally utilised, maximising ROI and reaching your target audience effectively.
Visual storytelling through stunning imagery
Images speak volumes, and we know how to make them sing. Our creative team produces captivating visuals that breathe life into your brand, leaving a lasting impression on your audience.
Transform ideas into compelling video narratives
Elevate your brand with our video production expertise. From concept to final edit, we craft video content that tells your story in a way that captivates, informs, and leaves a lasting impact.
We've worked with CCB to redesign our public and media website. The team have been great to work with, accommodating last minute requests and having a thorough design process. I would highly recommend Make for any website needs.
Since working together we have seen a steady growth in our marketing results, social engagement and overall brand visibility. I would recommend CCB to any growing business looking for a reliable marketing partner.
CCB supported us on a global campaign. They were fantastic from start to finish - responsive, supportive and super pleasant to deal with. Their creative input was completely on brief and they worked within the parameters we provided.
Recent posts 📝
24/11/23
Introduction: Navigating the Entrepreneurial Rollercoaster Embarking on a startup journey is akin to strapping into a rollercoaster—you'll experience thrilling highs and stomach-churning lows, often within the span of a single day. It's a ride that's exhilarating, unpredictable, and at times, downright terrifying. But amidst the twists and turns lies an invaluable treasure trove of lessons,…
Read more
Frequently Asked Questions 🤔
Explore our Frequently Asked Questions to get answers about our most frequently asked questions.
Can't find the answer you're looking for? Please use the button below to reach out.
Get in touch
Do you work with themes or build custom?

We offer both theme-based development and bespoke website development. We understand that each business has unique requirements and branding preferences.

With theme-based development, we leverage existing design templates and customise them to align with your brand identity. We can modify the design, layout, and functionality to create a visually appealing and user-friendly online store. This approach expedites the development process and provides cost-effective solutions.

On the other hand, if you have a specific vision or design in mind that goes beyond existing templates, our team of experienced developers can build a fully custom website for your business. We take your ideas, wireframes, and design preferences into consideration to create a tailor-made website that reflects your unique brand identity and meets your specific requirements.

Whether you choose theme-based development or bespoke website development, our goal is to deliver a high-quality, engaging, and conversion-focused online presence that effectively showcases your products and provides an exceptional user experience for your customers.

Can you migrate my current website for me?

Certainly, we offer website migration services to help you seamlessly transition your current website to Wordpress or the Shopify platform. These are the two most popular CMS platforms in the world due to their flexibility and growth potential. Whether you have an existing website on a different platform or an outdated site, we can assist you in migrating your content, products, customer data, and other essential elements.

Our experienced developers will carefully analyse your current website and develop a comprehensive migration plan tailored to your specific needs. We'll ensure that all your data is transferred accurately, and we'll work closely with you to minimise any disruptions during the migration process.

Do you provide the content for my site?

Certainly! We're more than happy to assist you with the content for your web page. At Content Creators Blackpool, our team of experts specialises in creating compelling and engaging content tailored to your business and target audience. Whether it's crafting captivating social content, engaging ad copies, product descriptions, writing informative blog posts, or developing persuasive copy for your homepage, we have the skills and expertise to provide you with high-quality content that showcases your brand effectively. Let us take care of the content creation process, allowing you to focus on running your business and delivering an exceptional experiences to your customers.

Can you maintain my website once it's running?

Sure! Our team of marketers, developers & content creators can provide ongoing marketing campaigns, maintenance, support and great content for your website, social media accounts and advertising goals once your services are up and running. We understand the importance of keeping your online presence running smoothly and efficiently. Whether you need regular updates, bug fixes, security enhancements, performance optimisations, A/B ad testing, daily social posts etc. our expert team are well-versed in maintaining your online presence.

With our expertise, you can focus on growing your business while leaving the technical aspects to us. Let us take care of your website's maintenance needs, ensuring that it continues to perform at its best over time.

Do I need a website and a logo for you to start work?

While having a website and logo can be beneficial, they are not mandatory for us to begin working together. Whether you already have an online presence or are starting from scratch, our team is equipped to assist you. We offer a range of services, from enhancing existing websites, creating visually stunning designs and user-friendly online stores, running marketing campaigns, creating captivating social content and much more. Let's discuss your project requirements and create a successful online brand that resonates with your audience.

What can Wordpress plugins/Shopify apps do?

WordPress plugins repository & Shopify's app store are treasure troves of custom-built tools created by developers worldwide. These nifty little helpers offer a wide range of functionalities, services, and personalised touches for your online presence. Imagine giving your customers the power to create wishlists, tracking their every move on your site, or providing them a great loyalty scheme. With WordPress plugins & Shopify apps, the possibilities are endless!